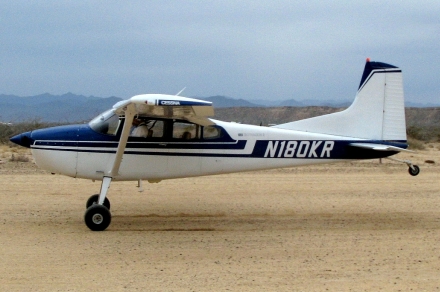 The SkyHoppers Cessna 180K (AKA 'Cisco') Skywagon wheel landing at the Punta Chivato airstrip in Baja, Mexico!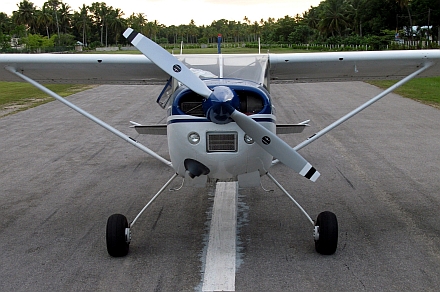 The SkyHoppers Cessna 180 showing off a new propeller!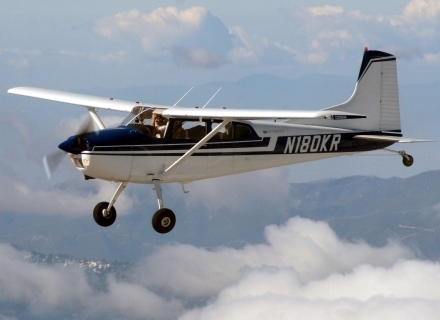 The SkyHoppers Skywagon over Southern California enroute to Baja for another adventure in
baja bush flying!
The SkyHoppers Cessna 180 'Skywagon'
SkyHoppers provides flight training excursions in an American registered, FAA certified Cessna 180 single-engine airplane. The Cessna 180 is a four-seat, conventional gear (tailwheel) general aviation airplane which was produced between 1953 and 1981 by the Cessna Aircraft Company of Wichita Kansas. Cessna introduced the model 180 as a heavier and more powerful complement to the Cessna 170 (Cessna's first 4-seat tailwheel airplane), and it eventually came to be known as the 'Skywagon.' Today, the Skywagon is considered the quintessential American bush plane, and of the total 6193 aircraft manufactured over a 28 year period, 3084 are still registered with the FAA. While the Skywagon is no longer in production, Cessna still provides parts and support for the aircraft, allowing the existing aircraft to remain in service, primarily in utility roles such as bush flying into remote areas throughout the world.
SkyHoppers acquired N180KR (originally N2983K), a 1980 Cessna 180 Skywagon II after 3 long years of searching for a suitable aircraft to offer flight training excursions in the Caribbean. N180KR was produced as a seaplane at the factory and has corrosion-proofing throughout the heavy-duty airframe and long range 88 gallon fuel bladders. As such it is well-equipped to endure the tropical environment, long hauls over open water, and the rigors of flight training excursions. It is also equipped with the super-reliable high compression Continental O-470-U engine having 230 horsepower with an 82-inch constant-speed McCauley propeller to provide confidence while operating over the water and in mountains, and perform in the high density-altitude conditions of the Caribbean.
Since acquiring our Skywagon in 2008, we have upgraded the plane with a host of other quality features, all of which are properly documented with the FAA. These features include:
Oversize Goodyear tires mounted on heavy duty Cleveland wheels &amp twin-piston brakes, as well as a 10-inch tailwheel all to provide improved float, directional control and stopping power on unimproved strips.
The engine is mounted on a brand new heavy-duty Kosola pivoting seaplane truss with oversize dynafocal isolators for vibration-free performance.
The landing gear is reinforced with P-ponk clamps which triple the shear strength of the landing gearbox.
The instrument panel has a modern 'six-pack' configuration for easier scanning, a JPI digital 6-cylinder temperature monitor for proper engine operation, and modern Garmin avionics including GMA340 audio panel with music input, GTX327 transponder, and a WAAS enabled GNS430.
The cabin has been outfitted with custom-fit Metzeler rubber aircraft flooring, gas spring door stewards, cargo net for securing equipment, and 4-point inertial shoulder harnesses.
Finally, our Skywagon is equipped with a full-size fully-floating water-activated 406Mhz EPIRB with GPS receiver registered with the NOAA for instant location of our aircraft should the need ever arise while flying over remote areas or water.