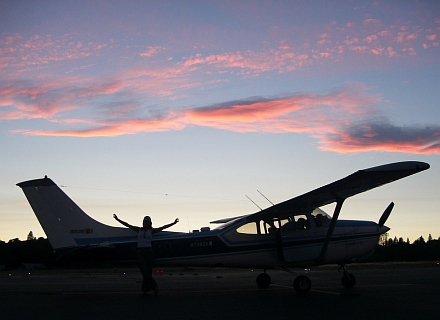 Come learn to spread your wings with SkyHoppers - call the Chief Instructor at 800-515-4225 to discuss the possibilities!
Make a Reservation with SkyHoppers
Regular flight training in the San Francisco Bay Area is provided on a Pay-As-You-Go basis and does not require a reservation as we are readily available to accomodate your needs at either the Palo Alto or Reid-Hillview Airports.

To make a reservation for an Aerial Excursions with SkyHoppers simply call toll-free 800-515-4225, or send an email to skyhopper@hotmail.com and we will call you to take your reservation. SkyHoppers accepts payment for our flight training excursions through Paypal, which accepts credit and debit cards, as well as cash or check. Reservations for our Aerial Excursions are best made at least one month in advance, and require a 25% deposit to confirm, with the balance being due upon launch of your flight training excursion. Reservations for Transition Training of out-of-state clients also require a 25% deposit two weeks prior to scheduling, which is refundable due to sudden illness up to the day before the reservation, or one week prior for any other reason.