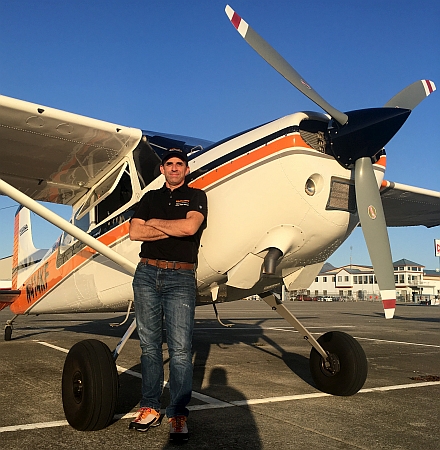 Chief Instructor Andrew Dilworth posing with 'Cisco' on the Frazier Lake grass strip (1C9) in California.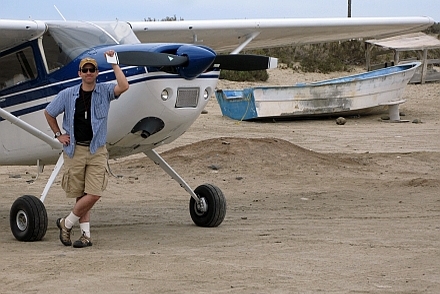 'Cisco' and the Chief posing at Punta Abreojos airstrip in Baja.
SkyHoppers Chief Instructor
The Chief Instructor for SkyHoppers Aerial Adventures is Andrew R. Dilworth. Andrew is an American FAA Certificated professional Flight Instructor (CFII) and Instrument-Rated Commercial Pilot with 15 years of experience and thousands of hours of flight instruction given in various single-engine airplanes. Andrew also holds Advanced and Instrument Ground Instructor Certificates, and has thousands of hours in Tailwheel, High-Performance, and Complex aircraft.
The idea for SkyHoppers Aerial Adventures originated when Andrew first became interested in flying while sitting on the beach in the Caribbean during a winter vacation in 1999 when he spotted a Cessna fly low overhead. From that moment on, the thought of adventure flying so intrigued him that he enrolled in flight lessons upon his return to San Jose, California, with the intention of operating his own aviation business in the Caribbean someday. Less than 3 years later, Andrew had earned all his professional qualifications, and started building his experience as a self-employed flight instructor at the Reid-Hillview Airport in San Jose, where he began doing business as SkyHoppers Aerial Adventures.
Since 2003, Andrew has logged more than 7,500 hours performing flight instruction in all types of light and heavy single-engine Cessna airplanes, from the ubiquitous Cessna 172, to the more complex and high-performance Cessna 182's and 206's with turbochargers and retractable landing gear, to the quintessential Cessna 170 and Cessna 180 tailwheel airplanes. Among my favorite airplanes that I fly are my own Cessna 180 Skywagon in which I offer specialized high-performance-tailwheel transition training, and the G1000 equipped aircraft in which I received training at the Cessna factory in Kansas.

My professional accomplishments also include actively serving as a Major in the USAF Auxiliary-Civil Air Patrol where I perform as a Pilot Examiner and Search & Rescue Pilot, holding a Master Phase 4 Certificate of Proficiency in the FAA Safety Team Wings program, and serving a consultant for the appraisal and purchase of Cessna aircraft. For 2012 & 2013 I also received many nominations for the Flight Training Excellence Award from the Aircraft Owners & Pilots Association (AOPA) placing me in among the top 25 flight instructors in the country in that poll for those years.